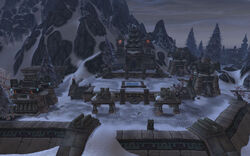 Zol'Maz Stronghold[66, 35] is a stone troll fortress in northeastern Zul'Drak patrolled by
 Enchanted Tiki Warriors who guard the many hex-guarded Zol'Maz Stronghold Caches. Hearing of the players exploits, the Drakkari warlord,
 Zol'Maz, has secluded himself and his family within his stronghold. Zol'Maz holds the key to freeing Akali, the rhino god.