Zixil <Merchant Supreme> is a level 32 speciality vendor located on the path between Tarren Mill and Southshore in the contested territory of Hillsbrad Foothills. He can also be found in the tower [52.7, 56.2] near Tarren Mill with his robotic guardian Overwatch Mark I.

This vendor offers a repair service.
This vendor sells (in limited quantity):
Zixil can also be found in the Caverns of Time dungeon Old Hillsbrad at the Southshore docks, finishing building his first robotic guardian, an Overwatch Mark 0.
See List of Hillsbrad Foothills NPCs.
External links
Edit
Hillsbrad Foothills
Caverns of Time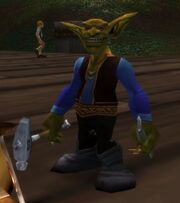 Ad blocker interference detected!
Wikia is a free-to-use site that makes money from advertising. We have a modified experience for viewers using ad blockers

Wikia is not accessible if you've made further modifications. Remove the custom ad blocker rule(s) and the page will load as expected.