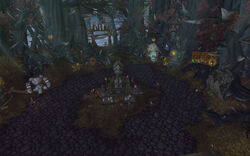 Zim'Torga[60, 57] is a neutral troll encampment controlled by the Zandalari. It is between the Argent Stand and Gundrak in Zul'Drak. In the center of the town is statue of the goddess Zim'Torga, the Mother of Prosperity, which accepts

 [Drakkari Offerings] for a blessing.

Please add any available information to this section.
See also
Edit
External links
Edit
Statue