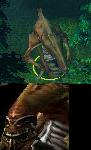 Powerful Zerg creature...[1]
The Hydralisk is a hidden creature in Chapter 2 of the Night Elf Campaign, Daughters of the Moon.
They are also found in the editor, Warcraft III World Editor.
Tyrande Whisperwind had just been attacked by Archimonde when she used Shadowmeld to hide herself. She escaped the Doom Guards to reach safety. Along the way, she found the in-game secret of a Hydralisk hidden in the upper right corner of the map behind a layer of trees. The Hydralisk aided Tyrande in fighting past the Undead forces blocking her way.
This is a homage to Starcraft.
See also
Edit
Hydralisk at StarCraft Wiki, a Wikia project.
References
Edit
Ad blocker interference detected!
Wikia is a free-to-use site that makes money from advertising. We have a modified experience for viewers using ad blockers

Wikia is not accessible if you've made further modifications. Remove the custom ad blocker rule(s) and the page will load as expected.