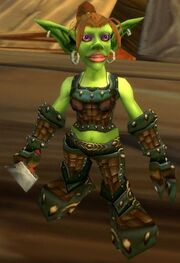 Zelli Hotnozzle is a goblin zeppelin master located at the western end of the Orgrimmar Skyway[43.2, 59.6] atop Orgrimmar. She gives information about The Zephyr, the zeppelin that runs between Orgrimmar and Thunder Bluff.
"Hey, sweetheart. The zeppelin that parks here'll take ya straight to Thunder Bluff, free of chare. Who needs wyverns when you got us goblins here, am I right?"

The zeppelin to Thunder Bluff has arrived! All aboard for a smooth ride acrosse the Barrens!
Patch changes
Edit
External links
Edit
Ad blocker interference detected!
Wikia is a free-to-use site that makes money from advertising. We have a modified experience for viewers using ad blockers

Wikia is not accessible if you've made further modifications. Remove the custom ad blocker rule(s) and the page will load as expected.