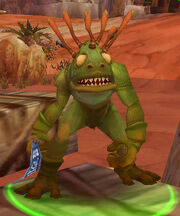 Zas'Tysh is an orc located near Lumak's Fishing[66.6, 41.6] within the Valley of Honor in the orcish city of Orgrimmar. He trades his items to those who have obtained codes for attending BlizzCon.
Vendor information
Edit
No longer redeemable
A sample Murky, the blue baby murloc small pet, is standing by him. (June 6, 2008) It appears to lack the periodic song and dance animation.
From Blizzcon 2007 through sometime in the first half of 2008, Zas'Tysh wore the Murloc Costume.
Zas'Tysh had a companion, Tharl Stonebleeder who could accept the code for the Baby Murloc, but Tharl Stonebleeder is currently no longer present. (June 6, 2008)

Ransin Donner

is his Alliance counterpart.
See also
Edit
External links
Edit
Ad blocker interference detected!
Wikia is a free-to-use site that makes money from advertising. We have a modified experience for viewers using ad blockers

Wikia is not accessible if you've made further modifications. Remove the custom ad blocker rule(s) and the page will load as expected.