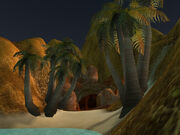 Zalashji's Den is home of Zalashji the naga, located in eastern Tanaris at [67, 32] Other than being a requirement of the Explore Tanaris Desert achievement, it currently serves no purpose to the game itself, beside being home to the mentioned Zalashji.
Cataclysm
Edit

This section concerns content exclusive to Cataclysm.
It is speculated that he may be involved in World of Warcraft: Cataclysm.