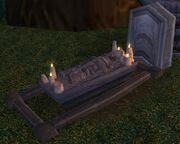 Yuriv's Tombstone can be found in The Sepulcher of Silverpine Forest. [44.2, 42.6]
The word BETRAYER is crudely scratched over the finely etched epitaph that reads:

Yuriv lies here.
Father, Husband, Paladin.
Let his children bear witness to the fact that his dedication to the Light was unquestionable.
He would never ask anything of them that he himself would not do.
External links
Edit
The readable stone

The tomb
Ad blocker interference detected!
Wikia is a free-to-use site that makes money from advertising. We have a modified experience for viewers using ad blockers

Wikia is not accessible if you've made further modifications. Remove the custom ad blocker rule(s) and the page will load as expected.