Not yet released!

This article or section includes information about announced content that has not been released yet. The expected release date is unknown.
Please remove this template when the content has gone live.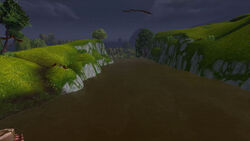 The Yan-Zhe River[66.5, 62.5] runs almost the entire length of the Valley of the Four Winds, beginning at the bridge connecting the valley to the Jade Forest and ending at Stormstout Brewery. It runs along the Cliffs of Despair, separating the valley from Krasarang Wilds. A handful of saurok poachers scour the southern banks near Thunderfoot Fields. On the shore east of Zhu's Descent the worg Lupello can be found pacing in the mud.
Inhabitants
Patch changes
External links