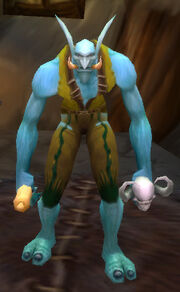 Xen'to[32.2, 69.6] is a troll cooking vendor located in the Valley of Spirits in the orcish city of Orgrimmar. He shares the small hut with the cooking trainer, Zamja, as well as Batamsi.
Notable items
Edit

Item Level

35

Requires Cooking (175)
Use: Teaches you how to cook Sagefish Delight.
Requires Raw Greater Sagefish (1), Hot Spices (1)

Item Level

15

Requires Cooking (80)
Use: Teaches you how to cook Smoked Sagefish.
Requires Raw Sagefish (1)
Patch changes
Edit
External links
Edit
Ad blocker interference detected!
Wikia is a free-to-use site that makes money from advertising. We have a modified experience for viewers using ad blockers

Wikia is not accessible if you've made further modifications. Remove the custom ad blocker rule(s) and the page will load as expected.