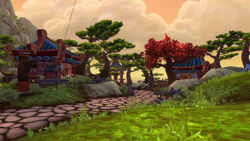 Wu-Song Village[47, 17] lies over the mountains and due west of the Shang Xi Training Grounds on the Wandering Isle. The Village has been overrun with annoying hozen, who are stealing up the supplies while attacking the villagers. Players meet Ji Firepaw here for the first time, the pandaren fighter staunchly defending the village.
The Village has a blacksmith that will buy, sell, and repair items. The blacksmith is in the building to Ji's left (east).
Inhabitants
Edit
NPCs
Mobs
The Village had a mailbox located to the right of Ji (west), but this was removed in subsequent beta builds.
Patch changes
Edit
Ad blocker interference detected!
Wikia is a free-to-use site that makes money from advertising. We have a modified experience for viewers using ad blockers

Wikia is not accessible if you've made further modifications. Remove the custom ad blocker rule(s) and the page will load as expected.