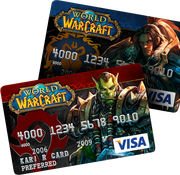 The World of Warcraft Visa was a no annual fee and no application fee VISA credit card that earns reward points based on credit card usage. Game time could be purchased with points. The card is no longer being issued.
Summary of features
Edit
Earn 1 point for every $1 in qualifying credit card purchases and redeem points for online game time.
Receive 1 month of World of Warcraft game time the first time you use your card within the first 3 billing cycles after your account is opened.
No annual fee.
External links
Edit
Info

WoW Official Game Site (US)
World of Warcraft Rewards Visa®
News

WoW Official Game Site (US)
New Designs for World of Warcraft Visa Card
by Blizzard Entertainment, Jun 24, 2011 2:57 PM PDT
Viewing the new designs requires Adobe Flash.
Ad blocker interference detected!
Wikia is a free-to-use site that makes money from advertising. We have a modified experience for viewers using ad blockers

Wikia is not accessible if you've made further modifications. Remove the custom ad blocker rule(s) and the page will load as expected.