This article or section contains information that is out-of-date.

Please replace the old information with up to date information.
This may include rewriting sections to ensure they are clear and concise, and wikifying.
Reason: iPhone version is at least up to v5.2.2.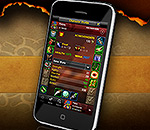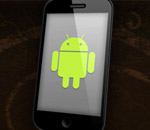 The World of Warcraft Mobile Armory is the mobile phone version of the discontinued Armory web site in mobile application version. The first version was for the iPhone and iPod Touch available since July 2009, but versions for other mobile OSes followed.
As of August 23 - 34, 2012, the Remote Auction House and Remote Guild Chat features that previously required a World of Warcraft Remote subscription were now free of charge to use.[1]
Features
Edit
The major features include:
Searching of arena teams, characters, guilds, and items
Access to the in game calendar
Player achievements
Talent calculator
With the World of Warcraft Remote subscription option (US$2.99/month or £2.49/month),[1] players can bid on, cancel, and place auctions remotely in the Auction House, as well as collect gold from successful and unsuccessful auctions.

"Remote Guild Chat" is part of the Remote subscription and[1] allows you to chat in your guild channel on your phone.
New Features
Edit
Features added in version 3.1 (iPhone version)[2] or 2.2.1 (Android version):[3]
iPhone-only
Android-only
New in iPhone version 7.0
Edit
New in iPhone version 3.2
Edit
New in iPhone version 3.3 and Android version 2.3
Edit
Features added:[4]
On the realm status page, you can view which faction on each realm currently controls the PvP zones of Tol Barad and Wintergrasp, as well as the time when the next reset occurs
Added achievement announcements in Guild Chat
Bug fixes
iPhone-only
Added an option to receive Guild Chat push notifications
Icons optimized for Retina Display
Android-only
Added a 3D character viewer to the character sheet (higher-end devices only)
Added an option to receive Guild Chat push notifications (requires OS 2.2+)
Higher resolution icons
References
Edit
See also
Edit
External links
Edit
General
iPhone
Android
News
Old
Ad blocker interference detected!
Wikia is a free-to-use site that makes money from advertising. We have a modified experience for viewers using ad blockers

Wikia is not accessible if you've made further modifications. Remove the custom ad blocker rule(s) and the page will load as expected.