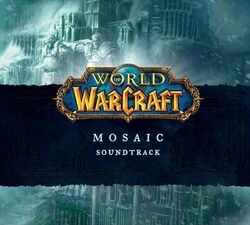 The World of Warcraft: Mosaic Soundtrack was composed and arranged by Russell Brower, Derek Duke, Glenn Stafford, Matt Uelmen, David Arkenstone and Edo Guidotti. It contains many tracks that were added in patches or that didn't make it into the expansion soundtracks. It was available for purchase for those who attended Blizzcon 2009.
Track list
Edit
Ad blocker interference detected!
Wikia is a free-to-use site that makes money from advertising. We have a modified experience for viewers using ad blockers

Wikia is not accessible if you've made further modifications. Remove the custom ad blocker rule(s) and the page will load as expected.