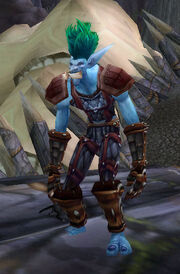 Wodin the Troll-Servant is the servant and bodyguard of Gurgthock, standing by his side at all the "fight rings". These include the

Ring of Blood[42.8, 20.6] at the Laughing Skull Ruins in Nagrand, the

Amphitheater of Anguish[48.4, 56.2] in Zul'Drak, and the

Crucible of Carnage[50.6, 58.2] in the Twilight Highlands. At the Amphitheater of Anguish, he gained a warrior kitten named Zena.
He ends the following quests in each area.
Ring of Blood
Amphitheater of Anguish
Crucible of Carnage
External links
Edit
Ring of Blood
Amphitheater of Anguish
Crucible of Carnage
Ad blocker interference detected!
Wikia is a free-to-use site that makes money from advertising. We have a modified experience for viewers using ad blockers

Wikia is not accessible if you've made further modifications. Remove the custom ad blocker rule(s) and the page will load as expected.