Removed restriction on using nopics
Edit
There is no good reason for the following that was added: These should NOT be used for NPCs that are in-game, where screenshots can be taken.
I removed it. There is no such policy and no mention in WoWWiki:Image guidelines. If you want to change the guideline, please use the voting process. If you want to propose a new policy, please use the policy process. --

 Fandyllic (talk · contr) 8:22 PM PST 6 Sep 2008

Not that anyone cares, but I've begun to create new placeholders, and also reorganized the old ones a bit.
Xavius, the Satyr Lord 10:11, 25 January 2009 (UTC)
Mechanical
Edit
If anyone can use their image editing skills and and make a nopic for mechanicals, that would be helpful for Ulduar articles.

 Howbizr(t·c) 10:02 AM, 18 Jun 2009 (EDT)
One mechanical nopic image ready to go. User:Coobra/Sig4 19:43, 18 June 2009 (UTC)

Yay.  

Howbizr

(

t

·

c

) 2:24 PM, 19 Jun 2009 (EDT)

If you're up for more, a bipedal orchid nature elemental (think Freya trash) and a revenant would be good.  

Howbizr

(

t

·

c

) 1:28 AM, 20 Jun 2009 (EDT)

Think I'm going to go a different route, and not just do what Weremagnus had done. A little detail is always nice... especially for mobs that really only have one look. Oh, and made you the two you requested as well. The elemental doesn't seem to be updating correctly though. User:Coobra/Sig4 07:35, 20 June 2009 (UTC)

Agreed on the detailing. The fire elemental Fandy made is my favorite. I love how the eyes just sneak in there when you're not looking.  

Howbizr

(

t

·

c

) 1:22 PM, 20 Jun 2009 (EDT)

Mmm, the script "no picture available" is kind of hard to read - often it's thin black script on dark gray. You might consider switching to the font used on the others (larger, blockface, possibly bold) or maybe use a light color of gray. Or, up contrast on the background image so it's generally lighter colored and then dark text will show up better.
I really need to learn how to do more image editing.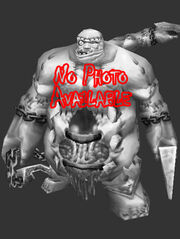 How this? too much? lol User:Coobra/Sig4 05:49, 8 July 2009 (UTC)
Again, if willing, a beast would be nice, although more than one kind would be good. I was looking for a raptor today.

 Howbizr(t·c) 5:33 PM, 7 Jul 2009 (EDT)
How about just a generic beast one .. represents reptiles, mammals, and birds. User:Coobra/Sig4 05:28, 8 July 2009 (UTC)
Highelves
Edit
Can anyone make nopics for Highelves? There are some of them, I think more than Arakkoa:) TheSatyr (talk) 13:41, April 1, 2010 (UTC)
There would be no difference from the blood elf ones. User:Coobra/Sig4 14:26, April 1, 2010 (UTC)
Ad blocker interference detected!
Wikia is a free-to-use site that makes money from advertising. We have a modified experience for viewers using ad blockers

Wikia is not accessible if you've made further modifications. Remove the custom ad blocker rule(s) and the page will load as expected.