Congratulations to all 25 lucky winners!
Greg W., Jean M., David B., Nicholas A., William B., Jasmine G., David R., Jack R., Elizaveta K., Tyler H., Eric C., James H., Jason J., Kevin W., Angel F., James F., Micheal S., Justin C., Devin E., Kevin R., Raymond W., Matt J., Ezra W., Bradfort C. and James E.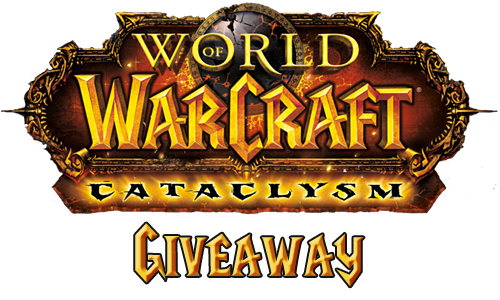 To celebrate the highly anticipated release,
we're giving away 25 copies of
Cataclysm
!
To enter, all you have to do is email us. See below for details.
What you can win:


A copy of World of Warcraft: Cataclysm
shipped to you on or near release day
How it works:
• Sign up for an account if you don't have one.
• Send an email with the subject "Cataclysm Giveaway" to (entry deadline has expired) with the following information:

• WoWWiki username
• Real name
• Mailing address
• Twenty-five (25) winners will be randomly chosen from all eligible entries.
• All entries must be made by December 1st.
• Open for US residents only. Must be 18 or older.
• See official rules for full details.
Ad blocker interference detected!
Wikia is a free-to-use site that makes money from advertising. We have a modified experience for viewers using ad blockers

Wikia is not accessible if you've made further modifications. Remove the custom ad blocker rule(s) and the page will load as expected.