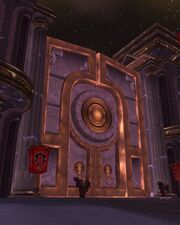 Wintergrasp Fortress Gate is a large gate that protects the entrance to the Wintergrasp Fortress in Wintergrasp.
This door can only be destroyed by siege weapons.
The only other way to get past the door is by using a Defender's Portal, which only the faction holding the fortress can use.
External links
Edit
Ad blocker interference detected!
Wikia is a free-to-use site that makes money from advertising. We have a modified experience for viewers using ad blockers

Wikia is not accessible if you've made further modifications. Remove the custom ad blocker rule(s) and the page will load as expected.