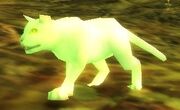 Winna's Kitten was originally a neutral housecat found in Felwood. It was Winna Hazzard's pet. She used it as a test subject to gauge the effects of water from a corrupted moonwell. The kitten then turned into a corrupted cat and ran away deeper into Felwood.
Removed quests
Edit
Patch changes
Edit
Patch 4.0.3a

(2010-11-23): Updated model to corrupted cat; quests changed.

External links
Edit
Ad blocker interference detected!
Wikia is a free-to-use site that makes money from advertising. We have a modified experience for viewers using ad blockers

Wikia is not accessible if you've made further modifications. Remove the custom ad blocker rule(s) and the page will load as expected.