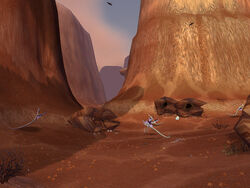 Windbreak Canyon is filled with wind serpents and their nests. This place covers most of the area between Freewind Post and the Shimmering Flats on the north side of the road in Thousand Needles. The path to the Weathered Nook can be found here.
Ad blocker interference detected!
Wikia is a free-to-use site that makes money from advertising. We have a modified experience for viewers using ad blockers

Wikia is not accessible if you've made further modifications. Remove the custom ad blocker rule(s) and the page will load as expected.