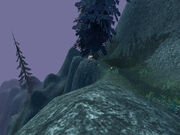 Wildwind Path is the long and winding path that leads up to Wildwind Peak. It is watched over by air elementals. Oddly, no crystal shards are on the path, despite Wildwind Peak being the impact site of The Exodar when it crash-landed on Azeroth.
Ad blocker interference detected!
Wikia is a free-to-use site that makes money from advertising. We have a modified experience for viewers using ad blockers

Wikia is not accessible if you've made further modifications. Remove the custom ad blocker rule(s) and the page will load as expected.