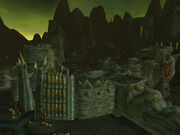 Wildhammer Stronghold is an Alliance town in the Shadowmoon Valley of Outland. As its name implies, it was founded by its current thane Kurdran Wildhammer who was one of the survivors of the original Alliance Expedition.
Wildhammer Stronghold is also one location of the Alliance's gryphon riding trainers and gryphon breeders for those seeking flying mounts.
Travel Connections
Edit
Ad blocker interference detected!
Wikia is a free-to-use site that makes money from advertising. We have a modified experience for viewers using ad blockers

Wikia is not accessible if you've made further modifications. Remove the custom ad blocker rule(s) and the page will load as expected.