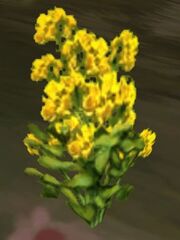 Wild Mustard is a plant that can be found in the grassy areas of Dalaran.
Objective of
Edit
Combine a [Empty Picnic Basket] with 4 [Rhino Dogs] and 4 Wild Mustard to create a [Mustard Dog Basket!], objective of the following quests:
Mustard is made mostly from the seeds of the mustard flower.
External links
Edit