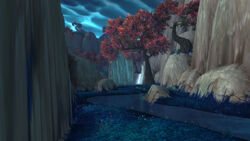 The Widening Deep is a deep trench that rests below Dusklight Bridge in Townlong Steppes, stretching to the west to meet the sea. It appears the mantid from the Dread Wastes are attempting to leap the trench in an attempt to invade the Steppes; the corpses of those that have failed lie at the bottom of the Deep.
A path leads down from Farwatch Overlook.
Patch changes
Edit
Ad blocker interference detected!
Wikia is a free-to-use site that makes money from advertising. We have a modified experience for viewers using ad blockers

Wikia is not accessible if you've made further modifications. Remove the custom ad blocker rule(s) and the page will load as expected.