Whitemend Pants

Item Level

105

156 Armor
+21 Intellect
+21 Stamina
Socket Bonus: +4 Intellect
Durability 75 / 75
Requires level 70
Equip: Increases spell power by 33.
Equip: Restores 11 mana per 5 sec.
Whitemend Wisdom

(2 pieces)

[

Whitemend Hood

]




[

Whitemend Pants

]

(2) Set: Increases spell power by up to 10% of your total Intellect. (Requires Tailoring (350))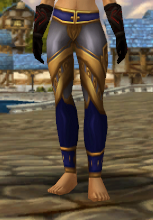 Whitemend Pants are cloth pants for healers crafted by tailors with a skill level of 375. The components are:
[Pattern: Whitemend Pants] is a drop from Dalliah the Doomsayer in The Arcatraz, and drops in either Normal difficulty or Heroic.
Though unlisted in the Patch 2.0.7 patch notes, the stats of this item were buffed a month after the expansion was released. Armor was changed from 145 to 156, and the +40 Stamina changed to +21 Stamina and +21 Intellect.
External links
Edit
Ad blocker interference detected!
Wikia is a free-to-use site that makes money from advertising. We have a modified experience for viewers using ad blockers

Wikia is not accessible if you've made further modifications. Remove the custom ad blocker rule(s) and the page will load as expected.