102,958pages on
this wiki
Talk

0
Dragon whelps (aka dragon whelplings, dragonlings, or broodlings) are the smallest member of the dragonkin species, representing the offspring of a brood. And as a result, are easily the weakest variation of dragons. In most cases however, where there are whelps, their larger cousins are always close by.
Types of whelps
Edit
Dragon whelps come in a variety of colors and are found in many different locations.
Ley-whelps
As companions
Edit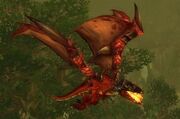 Even smaller and weaker than dragon whelps, are dragon whelplings. These are pint-sized companion dragons that in most cases, are dropped by the dragon whelp versions of themselves.
All whelpling pets (except the Netherwhelp, Frosty, Lil' Deathwing, and Onyxian Whelpling) have a 1 in 1000 chance of dropping, according to Eyonix.[1] The table below shows the cumulative probability of getting at least one after a number of kills.
Probability of at least one drop in X kills
Number of Kills
100
288
401
693
1386
2302
2995
4603
9206
Cumulative Probability
9.5%
25%
33%
50%
75%
90%
95%
99%
99.99%
Neither the drop rate nor cumulative probability increases based on the number of monsters you have already killed.
Combat Dragonlings
Edit
Mimicked to represent dragon whelps, engineers have developed schematics to create a mechanized version of these tiny dragons known as dragonlings. Unlike whelp companions however, dragonlings will fight for you, are only temporary, and are restricted to engineers.
Types of combat dragonlings:
Notable whelps
Edit