Weather-Beaten Fishing Hat

Item Level

10

31 Armor
+3 Stamina
+3 Spirit
Durability 55 / 55
Equip: Increased Fishing +5
Use: Attach a lure to your equipped fishing pole, increasing Fishing by 75 for 10 min. (10 minute cooldown)
Sell Price: 84
3 sec cast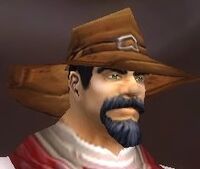 Can be found inside from fishing daily quests. This item can be found inside the [Bag of Fishing Treasures] rewarded from completing Marcia Chase's daily fishing quests in Dalaran, and
 [Bag of Fishing Treasures] from completing the daily quests for Old Man Barlo.
Patch changes
Edit

 Hotfix (2010-03-24): Removed the minimum item level requirement introduced in patch 3.3.3.


Patch 3.2.0 (04-Aug-2009): 30-second equip cooldown removed.


Patch 2.4.0 (25-Mar-2008): Added.

External links
Edit
Ad blocker interference detected!
Wikia is a free-to-use site that makes money from advertising. We have a modified experience for viewers using ad blockers

Wikia is not accessible if you've made further modifications. Remove the custom ad blocker rule(s) and the page will load as expected.