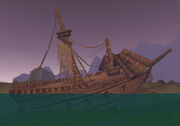 Wave Mistress is the one of the ships that belonged to the Third Fleet of Kul Tiras. It was destroyed by the Dragonmaw clan during the Second War and now lies as part of the Lost Fleet in Baradin Bay at the northwestern edge of the Wetlands, just south of another sunken boat, Intrepid.
Ad blocker interference detected!
Wikia is a free-to-use site that makes money from advertising. We have a modified experience for viewers using ad blockers

Wikia is not accessible if you've made further modifications. Remove the custom ad blocker rule(s) and the page will load as expected.