Were you looking for the

[

Waterlogged Footlocker

]

off the coast of Desolace?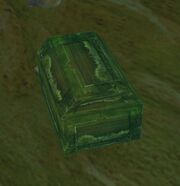 There are actually two Waterlogged Footlocker types available in Zoram Strand. Those on the coast are minimum lockpicking 70, those underwater are 115.
External links
Edit
Ad blocker interference detected!
Wikia is a free-to-use site that makes money from advertising. We have a modified experience for viewers using ad blockers

Wikia is not accessible if you've made further modifications. Remove the custom ad blocker rule(s) and the page will load as expected.