See also: Water Barrel (quest item)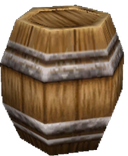 The Water Barrel is a barrel of water found in low level zones, such as Durotar, Tirisfal Glades, Elwynn Forest, Azuremyst Isle, Mulgore, Dun Morogh, and Teldrassil.
Contains
Edit
 [Refreshing Spring Water] 1-5
The locations of these barrels seem to correspond with the locations of the Hallow's End larger, half water barrels used for putting out fires, but also seems to include many other water barrels on Azuremyst Isle. So maybe Blizzard is re-using these objects, but it is not clear.
Patch changes
Edit
External links
Edit
Ad blocker interference detected!
Wikia is a free-to-use site that makes money from advertising. We have a modified experience for viewers using ad blockers

Wikia is not accessible if you've made further modifications. Remove the custom ad blocker rule(s) and the page will load as expected.