Warlock magics, the powers of entropy and destruction, are demonic and volatile magics[1] wielded by warlocks.
Background
Edit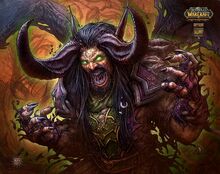 Warlockism is a demonic form of magic that seems to involve a connection with both the unnatural and the demon worlds. Warlocks do not normally honor demons, but enslave them, forcing the demons to heed their call. Warlocks are inherently imbued with magic—they harness the powers of the demons through destruction and entropy, the destruction of their own bodies: Warlock energy spreads like radiation[2] and would seep into - and exist in - warlocks, who would be able to harness the demonic power (or warlock magics)[3] inside their bodies by destroying their own structures. And because warlocks are at least a source of demonic power, warlocks would have a connection to demons and the place where demons are from, which is the Twisting Nether. Warlocks, who bind demons to their will,[4] would be able to use this connection to manipulate demons, even after they die.
References
Edit
Ad blocker interference detected!
Wikia is a free-to-use site that makes money from advertising. We have a modified experience for viewers using ad blockers

Wikia is not accessible if you've made further modifications. Remove the custom ad blocker rule(s) and the page will load as expected.