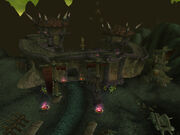 Warden's Cage is an Illidari Servitor-run prison located west of the Black Temple in Shadowmoon Valley. As its name implies, it is where Warden Maiev Shadowsong, the former jailor of Illidan Stormrage, is held prisoner by the Betrayer's Broken servitors led by Akama himself.
Ad blocker interference detected!
Wikia is a free-to-use site that makes money from advertising. We have a modified experience for viewers using ad blockers

Wikia is not accessible if you've made further modifications. Remove the custom ad blocker rule(s) and the page will load as expected.