103,458pages on
this wiki
Talk

0
"Warcraft Battle Chest" redirects here. For the battle chest of Warcraft I & II with a nearly identical name, see Warcraft: Battle Chest.
See also: World of Warcraft Battle Chest.
Warcraft Battle Chest



Battle Chest box

Developer(s)
Blizzard Entertainment
Publisher(s)
Blizzard Entertainment
Release date(s)
September 19, 2003
Version
1.24b
Platforms
Macintosh, Windows
Genre(s)
Real-time strategy
Warcraft: Battle Chest is a pack containing Warcraft III: Reign of Chaos and Warcraft III: The Frozen Throne with its manuals and strategy guides.[1] This ultimate edition also includes limitless online playing on the Battle.net gaming site.[2]
Stuff included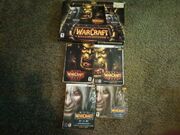 Notes
Cost is less than $40 circa late 2011, depending on location and availability, plus a few other factors.
References
External links

Blizzard Entertainment
Warcraft Battle Chest (Link not functional anymore).

Blizzard Online Store
Warcraft Battle Chest.
Warcraft games
 

RTS

MMO

Special Editions

Misc.

Non-computer

Games with strikethrough were cancelled or are no longer being produced.