104,173pages on
this wiki
Talk

0
"Warcraft Battle Chest" redirects here. For the battle chest of Warcraft I & II with a nearly identical name, see Warcraft: Battle Chest.
See also: World of Warcraft Battle Chest.

Warcraft: Battle Chest is a pack containing Warcraft III: Reign of Chaos and Warcraft III: The Frozen Throne with its manuals and strategy guides.[1] This ultimate edition also includes limitless online playing on the Battle.net gaming site.[2]
Stuff included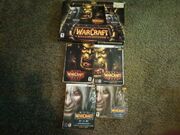 Notes
Cost is less than $40 circa late 2011, depending on location and availability, plus a few other factors.
References
External links

Blizzard Entertainment
Warcraft Battle Chest (Link not functional anymore).

Blizzard Online Store
Warcraft Battle Chest.
Warcraft games
 

RTS

MMO

Special Editions

Misc.

Online card

MOBA

Demos

Remakes

Cancelled

Non-computer

Games with strikethrough were cancelled or are no longer being produced.