Warblade of the Hakkari is the name of a main handed sword and its off-hand companion. The main hand increases attack power and crit rate. The two swords form the weapon set The Twin Blades of Hakkari.
Warblade of the Hakkari drops off Hakkar in Zul'Gurub in Stranglethorn Vale.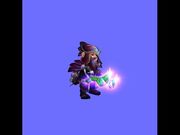 The drop rate is approximately 9%.
Patches and hotfixes
Edit

Patch 1.7.0 (13-Sep-2005): Added

External links
Edit