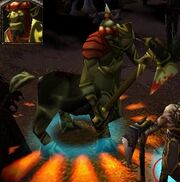 The War Khan was a level 15 centaur from Warcraft III: The Frozen Throne. He was the leader of a group of centaur in Mulgore during The Founding of Durotar. He and his centaur kidnapped Baine Bloodhoof; Rexxar, Chen Stormstout, Rokhan, Bovan Windtotem, and some taurens razed the centaur village killing the War Khan and released Baine.
Statistics from Warcraft III
Edit
2800 HP
600 MP
66-75 chaos melee damage
4 heavy armor
Abilities

Command Aura
Endurance Aura
Stomp
Shockwave
Ad blocker interference detected!
Wikia is a free-to-use site that makes money from advertising. We have a modified experience for viewers using ad blockers

Wikia is not accessible if you've made further modifications. Remove the custom ad blocker rule(s) and the page will load as expected.