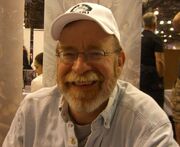 Walter Simonson is the writer of World of Warcraft: The Comic DC Wildstorm comic series which is illustrated by Ludo Lullabi and Sandra Hope.
"There was that one scene that involved three night elves, a tauren, and two bottles of molasses but that got nixed right out of the box, darn it!"[2]
References
Edit
External links
Edit

Amazon.com
Walter Simonson "warcraft" books
Interviews

Forum.Newsarama.com
WALT SIMONSON: INTO THE WORLD OF WARCRAFT by MattBrady 10-25-2007, 03:52 PM

BlizzPlanet
"World of Warcraft # 1 Comic Book - DC Comics Walter Simonson Q&A" Posted 31st Dec 2008 08:00 PM by Medievaldragon
Ad blocker interference detected!
Wikia is a free-to-use site that makes money from advertising. We have a modified experience for viewers using ad blockers

Wikia is not accessible if you've made further modifications. Remove the custom ad blocker rule(s) and the page will load as expected.