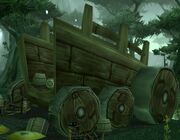 A wagon is a four-wheeled, open vehicle for transporting heavy loads. In general, two horses (or other beasts of burden) draw it. It comes with the harness needed to pull it. A wagon on runners is known as a sled. A bouncy ride in a wagon is a vigorous motion. A wagon train is a community with a large collection of wagons and coralled beasts of burden for hauling cargo, either locally or as part of a merchant caravan. Wheelrights can be seen making or fixing wagon wheels.[1]
Wagons are heavy,[2] weighing at least four hundred pounds.[3]
References
Edit
Ad blocker interference detected!
Wikia is a free-to-use site that makes money from advertising. We have a modified experience for viewers using ad blockers

Wikia is not accessible if you've made further modifications. Remove the custom ad blocker rule(s) and the page will load as expected.