104,174pages on
this wiki
Talk

3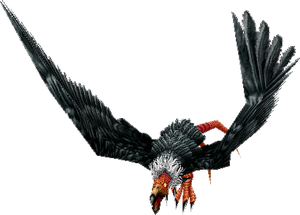 Main article: Carrion bird
Vultures are carrion birds that can be found throughout the Barrens — seeking carnage upon which to feed. The mottled scavengers have been known to aid the vile harpies from time to time — drawn by the promise of freshly slain flesh and blood.[1] They can be found roaming the lands of Kalimdor. They work simply for self-preservation.[2]
Vultures can also be found roaming the Eastern Kingdoms like in Western Plaguelands. They have also been seen in Outland, but with two heads.
Subspecies
The subspecies below can be tamed by hunters.
Blue
Brown
Red
Black
White
Blue
Green
Red
White
Yellow
Named
Vanity/Battle pet
References
External links

Warcraft Pets