Volcor is a level 19 quest giver located in the Blackwood Den cave in the night elven zone of Darkshore.
He starts the following quests:
Cataclysm
Edit

This section concerns content exclusive to Cataclysm.
In the upcoming expansion World of Warcraft: Cataclysm, Volcor is among a handful of Auberdine survivors you are tasked with rescuing for the quest The Last Wave of Survivors.
Volcor soon sends adventurers to save his beloved Grimclaw. When you afterwards return to Lor'danel, you discover the Volcor dies from his injuries.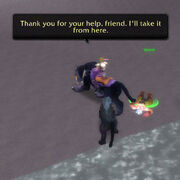 External links
Edit