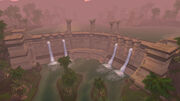 The Vir'naal Dam[55, 42] is located south of the capital city of Ramkahen in Uldum. It holds back the waters of Vir'naal Lake. The upper part of the dam is hollow, containing windows by which one can see beneath the surface of the lake. This is also where the quest giver is located.
Inhabitants
Edit
The dam's two entrances can be found on either end of the structure along the top rim.
Patch changes
Edit
External links
Edit
Ad blocker interference detected!
Wikia is a free-to-use site that makes money from advertising. We have a modified experience for viewers using ad blockers

Wikia is not accessible if you've made further modifications. Remove the custom ad blocker rule(s) and the page will load as expected.