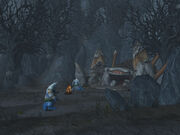 The Vice [60, 61] (a.k.a. Deadwind Ogre Mounds) [1] (LoC 44) is home to the Deadwind ogres. There are several Deadwind ogre camps in the area, scattered along the road to Karazhan in the southern area of Deadwind Pass. Nobody knows why the ogres have chosen to settle in this desolate area with nothing but restless spirits and a few vultures for company.
It should also be noted that [Formula: Enchant Bracer - Superior Strength] drops off the Deadwind Warlocks of the area at a near 0.5% chance.
Ad blocker interference detected!
Wikia is a free-to-use site that makes money from advertising. We have a modified experience for viewers using ad blockers

Wikia is not accessible if you've made further modifications. Remove the custom ad blocker rule(s) and the page will load as expected.