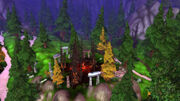 The Verdant Thicket[46, 27] is a swath of land that covers much of north-central Mount Hyjal. It includes the areas of the Tranquil Grove, Lake Edunel, the Circle of Cinders, the Twilight Command Post, Ruins of Lar'donir, and the Hyjal Barrow Dens.
Ad blocker interference detected!
Wikia is a free-to-use site that makes money from advertising. We have a modified experience for viewers using ad blockers

Wikia is not accessible if you've made further modifications. Remove the custom ad blocker rule(s) and the page will load as expected.