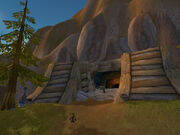 The Venture Co. Mine
REDIRECT Template:Map/Coords is an enormous mine run by the Venture Trading Company. The savage defilement of the ancient mountains is greatly upsetting to the tauren of Bloodhoof Village, who seek to eradicate the goblins from the land. The mine has 3 exits one of them leading to a ledge with a goblin camp, a dig site and an engineering trainer.
Ad blocker interference detected!
Wikia is a free-to-use site that makes money from advertising. We have a modified experience for viewers using ad blockers

Wikia is not accessible if you've made further modifications. Remove the custom ad blocker rule(s) and the page will load as expected.