Venomspite is a Forsaken town in eastern Dragonblight.
Here, the Hand of Vengeance are continuing their plague experiments, and Horde players are sent here by a special flight path that requires you to have finished the primary quest chains at New Agamand in Howling Fjord and to be level 71.
To the north lies the equivalent questing hub of the Alliance called Wintergarde Keep.
Venomspite has the same typical architecture found within Vengeance Landing and other Forsaken outposts in the Howling Fjord.
Facilities
Edit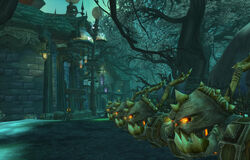 Inn
Mailbox
Flight Master
Stable Master
Equipment Repair
Trade Goods
General Goods
Forge & Anvil
REDIRECT Template:Map/Coords
Travel Connections
Edit
Flight

Agmar's Hammer in Dragonblight

Apothecary Camp in Howling Fjord

New Agamand in Howling Fjord

Moa'ki in Dragonblight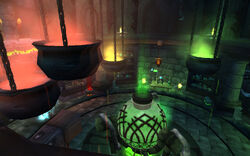 Leaders
Merchants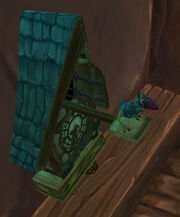 Other Characters
Guards
Ad blocker interference detected!
Wikia is a free-to-use site that makes money from advertising. We have a modified experience for viewers using ad blockers

Wikia is not accessible if you've made further modifications. Remove the custom ad blocker rule(s) and the page will load as expected.