The subject of this article has been removed from World of Warcraft.

This includes items and quests that can no longer be obtained.
The in-game information in this article is kept purely for historical purposes and should probably not be under any other categories.

Vengeful Gladiator's Bonecracker

Item Level

146

Speed 1.50
108 - 201 Damage
(103.0 damage per second)
+30 Stamina
Durability 105 / 105
Requires level 70
Equip: Improves hit rating by 8.
Equip: Improves resilience rating by 12.
Equip: Improves critical strike rating by 21.
Equip: Increases attack power by 34.
Equip: Increases armor penetration rating by 7.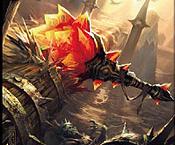 This item was a PvP reward, and could be purchased for 1125

from Meminnie <Arena Vendor> in Blade's Edge Mountains.
External links
Edit