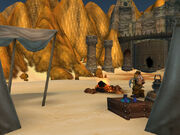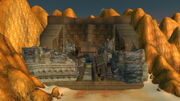 The Valley of the Watchers is a valley located near to Uldum. In front of it are mighty, elite Dune Smasher mountain giants.
Also in this valley a small dwarven camp has been set up by the Explorers' League. Prospector Gunstan can be found here.
Cataclysm
Edit

This section concerns content exclusive to Cataclysm.
In Patch 4.0.1, the Uldum gate has significantly changed its appearance. Instead of the new (currently inaccessible) Uldum zone, however, it leads to a small dungeon area.
Ad blocker interference detected!
Wikia is a free-to-use site that makes money from advertising. We have a modified experience for viewers using ad blockers

Wikia is not accessible if you've made further modifications. Remove the custom ad blocker rule(s) and the page will load as expected.