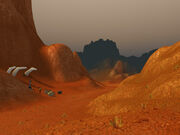 The Valley of Fangs is a small valley between two massive stone formations located in the central Badlands. It is the location of one of the many small quest camps in the region, this one containing Martek the Exiled, Rigglefuzz, and Jazzrik. Travel through the valley can be hazardous as it is home to both wolves and cougars.
Ad blocker interference detected!
Wikia is a free-to-use site that makes money from advertising. We have a modified experience for viewers using ad blockers

Wikia is not accessible if you've made further modifications. Remove the custom ad blocker rule(s) and the page will load as expected.