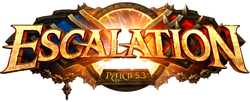 Unless you've been hiding under a rock or just haven't played in a while, you know that Patch 5.3.0 dropped this week. The Escalation patch has quite a few features packed into it, including a new battleground, new arena, four new scenarios, epic questlines, and some changes miners and herbalists might appreciate (yes, you, too can mine and herb in Pandaria, low-skill gatherers!). Blizzard has posted a great roundup of their own on the official site, including content overview, developer tidbits, and links to interviews.
More news:
Time - Article on the continuing decline of Warcraft's subscriber numbers.
Blizzard's turning heads that probably shouldn't be turning today off news that World of Warcraft – the most successful online roleplaying game in history — lost 14% of its subscriber base over the past three months. Make that 1.3 million players.
From the tone of the article, it doesn't seem that Blizzard is panicking in any way. Just the opposite, as they're looking at what factors might be playing into this decline (age of the game, market in the East, ways to woo back players).
...we're examining ways we can ease the transition back into the game for returning players. We've always seen players come and go from World of Warcraft. Smoothing out that transitional period is something we're studying, as we adjust our approach to player behavior and preferences.
WarCry Network - As if in response to this, here's an article about the speed of content production.
"Players consume content faster than ever before and they have an appetite for more and more content and we're committed to delivering it while maintaining the high level of quality that we've set and established over past years," Hazzikostas (Lead Encounter designer) said. "We're really happy with how Mists of Pandaria has gone so far in that regard and something that we think we're going to be able to sustain going forward."
Probably as it refers to their attention on those declining numbers and how to retain current players and woo others back: Also, we're constantly paying attention to feedback from our fans and our players, seeing what they enjoy, what characters resonate with them the most. Characters that are beloved by the players are ones that we're likely to pay more attention to going forward because we see there's already been a clear response.
WoW Insider - Ending on a higher note, though, the good folks over at WoW Insider have reviewed World of Warcraft: Dark Riders.
Yes, we have been waiting for this graphic novel for four years now. Was it worth the wait? Absolutely....by the end of the story I really wanted to follow the characters and see where they went next -- and I couldn't. I'm really hoping this isn't the last foray with this particular cast, and that we'll see more of Costas' work on future projects. I would love to see more of Revil in particular, but Karlain and Brink are just as cool in their own fashion.
Worgen? The Scythe of Elune? Dark Riders? Sounds like a great tale, and one that those interested in the history and lore surrounding the Scythe should be extremely interested in.
Well, that's it for this week. Until next time, have fun with the current patch!


For more WoWWiki and Warcraft news be sure to follow us on

and join our

group!
---
---
Ad blocker interference detected!
Wikia is a free-to-use site that makes money from advertising. We have a modified experience for viewers using ad blockers

Wikia is not accessible if you've made further modifications. Remove the custom ad blocker rule(s) and the page will load as expected.