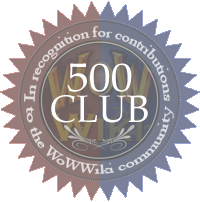 This user is a notable member of
the
500 club
!
General Information
I'm a chill dude. Nothing really else to say. I like adding information to Wikias.
To Do List
Create pages for Mists of Pandaria
Add categories to pages
Upload screenshots
Update loot drops for mobs
Characters
Darrowmere
Level 90 Gnome Warrior (Arms/Prot)
Level 85 Gnome Rogue (Sub/Combat)
Level 85 Dwarf Paladin (Prot/Holy)
Level 85 Gnome Mage (Frost/Fire)
Level 71 Gnome Priest (Disc)
Level 66 Pandaren Warrior (Prot)
Level 63 Draenei Hunter (Survival)
Level 50 Dwarf Warlock (Afflic)
Level 32 Night Elf Druid (Guardian)
Level 33 Dwarf Priest (Disc)
Level 23 Gnome Monk (Mist)
Rivendare
Level 80 Gnome Death Knight (Blood)
Level 62 Human Warrior (Prot)
Level 20 Gnome Mage (Unknown)
Userboxes
This user misses the

boat

by a few seconds every damn time.
This user fights for

Stormwind

in life and death.
"Show me the money!"
This user loves to

farm

.
This user wants to save kill the

murlocs

.
It's not that this user hates

blood elves

, this user is just calling for their extermination. See the difference?
This user wanted the

Goblin

to be a playable race, and their wish came true!
This user would like

Ogre

to be a playable race.
| | |
| --- | --- |
| Rouge = Red | This user can spell Rogue . |