103,861pages on
this wiki
Talk

0
Character Concept
Edit
Searsha is a World of Warcraft roleplaying avatar created on the US realm Ravenholdt in February 2010. Searsha is a female Blood elf priest, she was born in the rolling plains of Eversong Forest.
Appearance Edit
Searsha, like many other female Sin'dorei, posses a natural elegance and beauty. Her skin is pale and smooth, blemished only by a jagged scar on her left hand. Her eyes are burning emeralds, hungry for magic to sate them. Searsha's ears are long and pointed, extending far behind her head. Her deep sanguine hair frames her face, falling just to her shoulders. A pair of two ruby earrings accompany her ears at all times. Her body is short and slightly curvy, due to the lack of a physically strenuous childhood. Searsha holds a presence of authority and dignity about her.
Short Background Edit
"Artwork"
Edit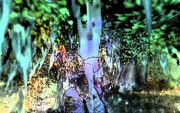 Resources Edit
User Information Edit
This user plays as a member of the

Horde

.
This user plays as a

female

character.
This user prefers to

raid

.
This user prefers to

PvP

.
This user plays as a

DPS

.
This user has a strong interest in articles on

lore

.
This user is an avid

pet

collector.
This user plays on an

RP

server and does, in fact, roleplay there.